PURINA MILLS
Regular price
$0.00 USD
Sale price
$30.99 USD
Unit price
per
Sale
Sold out
50Lb Tc Perform Gold
Triple Crown Perform is a high fat, high fiber pellet ideal for performance horses or horses requiring additional calories, Perform is the first Triple Crown feed focused on both amino acid balance through the inclusion of whey protein, which is essential for muscle growth and development, and electrolyte balance, which aids in hydration.  With the inclusion of an organic, plant-based calcium, Perform also provides a buffering effect to support gastric health.
The guarantees on our website are the most current.  You will notice, we have increased a number of nutrient guarantees below and added a few new ingredients to reflect our updates to EquiMix. The ingredients listed on the website are in your bag of feed now. New feed bags will match these improvements over time.
GUARANTEED ANALYSIS
Crude Protein (min.)
12.50%
Lysine (min.)
0.70%
Methionine (min.)
0.25%
Threonine (min.)
0.48%
Tryptophan (min.)
0.17%
Leucine (min.)
0.88%
Crude Fat (min.)
12.00%
Crude Fiber (max.)
15.00%
ADF (max.)
19.00%
NDF(max.)
34.00%
Calcium (min.)
0.90%
Calcium (max.)
1.40%
Phosphorus (min.)
0.60%
Magnesium (min.)
0.50%
Potassium (min.)
1.10%
Sodium (min.)
0.50%
Sodium(max.)
1.00%
Chloride (min.)
0.50%
Salt (min.)
0.40%
Salt (max.)
0.90%
Omega-3 Fatty Acids (min.)
2.00%
Omega-6 Fatty Acids (min.)
5.00%
Selenium (min.)
0.60 ppm
Selenium (max.)
1.00 ppm
Zinc (min.)
220 ppm
Manganese (min.)
95 ppm
Cobalt (min.)
0.20 ppm
Copper (min.)
50 ppm
Iron (min.)
60 ppm
Vitamin A (min.)
5,500 IU/lb
Vitamin D3 (min.)
1,000 IU/lb.
Vitamin E (min.)
165 IU/lb
Riboflavin (min.)
2.50 mg/lb
Thiamin (min.)
7.00 mg/lb
Ascorbic Acid (min.)
40 mg/lb
Biotin (min.)
0.25 mg/lb
Total Direct Fed Microbials (min.)
3.12 billion CFU/lb
Lactobacillus Acidophilus Fermentation Product (min.)
790 million CFU/lb
Enterococcus Faecium Fermentation Product (min.)
790 million CFU/lb
Bacillus Subtillus Dried Fermentation Product (min.)
25 million CFU/lb
Saccharomyces Cerevisiae Yeast Culture (min.)
1.53 billion CFU/lb
Cellulase* (Trichoderma Longibrachiatum Fermentation Extract) (min.)
0.59 million CU/lb
Protease** (Bacillus Subtilis Fermentation Extract) (min.)
1,240 HUT/lb
NSC***
16.1%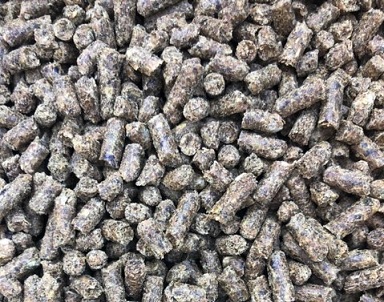 Feeding Directions
Triple Crown Perform Gold is a high calorie diet designed to be fed to performance horses of any age. If feeding as a grain concentrate with hay, feed a minimum rate of 6 lb. per day to provide all necessary minerals and vitamins to horses in training and performing in strenuous type activities.
PERFORMANCE HORSES: Begin by feeding as much good quality forage as possible, along with free access to clean water and salt. Horses should receive the equivalent of at least 10 lb. of hay per day or more. Feed Triple Crown Perform at a rate that will maintain the horse's desired body condition and energy level. Use 0.5 lb. per 100 lb. of bodyweight or 6-8 lb. per day for an average size Thoroughbred or Quarter Horse-type horse as a starting guideline; then adjust as desired.
NOTE: Provide plenty of fresh, clean water at all times. Keep product fresh in cool, dry storage. Examine product daily. DO NOT use if old, moldy or contaminated with insects.
Share
View full details